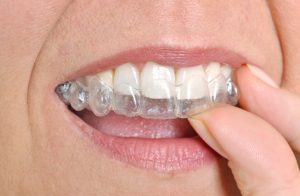 You're probably heard of Invisalign, those clear braces for adults. But if you're like most of our patients, you haven't considered them as a real option for straightening your crooked, crowded, gapped or misaligned teeth. If that sounds like you, we've only got one question: why not? Invisalign clear braces in Cumming, GA, is an excellent, accessible option for adults who could benefit from orthodontic treatment.
Top Five Advantages of Invisalign Clear Braces Cumming GA
The benefits of choosing Invisalign are many, and they're not all focused on the fact that it's practically invisible — though that's obviously one big perk. We asked our patients what they appreciate most about their clear Invisalign braces, and this is what they had to say in return.
#1: No one ever has to know I'm getting orthodontic treatment
It almost goes without saying — but not quite. Adults and adolescents alike benefit from the fact that, unlike traditional metal braces, Invisalign is super-discreet. In fact, chances are good that no one will ever know you're undergoing orthodontic treatment. When we ask our patients in Cumming what they liked most about their Invisalign braces, its invisibility was the number one benefit.
#2: The Invisalign system is comfortable
Let's face it: traditional braces are uncomfortable. As one of our younger patients put it, "I don't want metal brackets and wires anywhere near my mouth."
With removable aligners made of smooth plastic, you don't have to worry about experiencing unnecessary discomfort throughout your Invisalign treatment. The only thing you'll feel is the progress of your teeth as they gradually move into the desired position.
#3: I don't have to learn any new cleaning techniques
Tooth decay commonly occurs with traditional braces, and it's no surprise — it's not easy to brush and floss around those bulky brackets and wires. Our patients love the fact that the Invisalign are removable, meaning they can clean their teeth just like they're used to. As long as you wear your aligners for 20 to 22 hours every day, you're fine.
#4: I can eat what I want
Because Invisalign trays are removable, you can take them out before meals and snacks. And that means you won't ever have to worry about having a little bit of lunch leftover in your braces.
#5: Invisalign fits my schedule
Traditional braces can take up a lot of your time, considering the average treatment takes about a year and a half — and extra visits to the dentist are necessary when loose wires or popped-off brackets occur. And that's not even mentioning all that extra time spent cleaning and maintaining the braces. The Invisalign treatment, on the other hand, is extremely low-maintenance. All you have to do is switch out your removable aligner every two weeks and visit your dentist every six weeks, and you'll be smiling your beautiful smile in about a year.
Interested? Contact Us Today
If you're interested in learning how the Invisalign treatment can help your smile in 2016, don't hesitate to schedule your consultation at Dentistry at Windermere today. You deserve a smile you feel great about. Call us today!