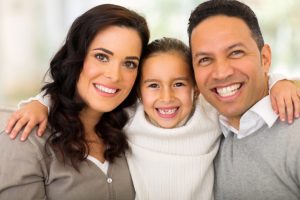 As a parent, you know how important it is to keep your children healthy and happy. Young mouths deserve to be as healthy as possible especially considering how easy it is for them to contract dental diseases and more. There's a lot you can do at home to help keep cavities and other dental problems from ruining your family's oral health. When you've done all you can, it's time to pay us a visit for a checkup. Checkups help us keep a close eye on your mouth.
Our Cumming, GA office offers fantastic general dentistry services that your family can benefit from. We're able to treat patients three and older so your family can receive the best treatment around. And talk about a dental staff that cares – everyone comes into work wanting to provide our patients with a knockout smile. Drs. Brian and Katherine Lee provide gentle care for all of our patients in the hopes that their smiles look and feel beautiful throughout their lives.

General Dentistry at Our Office
We approach dentistry holistically when it comes to treating you and your family. Gentle care is what we provide, as well as valuable knowledge on how to keep your oral health in great shape when you're away from our office. It isn't just general dentistry services we provide – we also help smiles with restorative, cosmetic and additional dental services. We also can assist with orthodontic help, too.
But, since we're on the subject of general dentistry, we might as well keep it going, right? We provide gentle checkups and exams for every member of your family. Our dental team will carefully examine each tooth to ensure there are no signs of decay or other issues. Additionally, we use a revolutionary tool that helps us catch cavities in their infancy. It's called DIAGNOdent, and it's changing the way we address and treat cavities. We can also answer any general dentistry questions like how to practice good oral habits and what to expect when you come in for a specific procedure.
Preventive Care Begins at Home
There's only so much we can do when you come into our office for treatment. Are you practicing good brushing and flossing technique with your kids? If you aren't, you really should. You'd be surprised at the risks associated with not brushing or flossing your teeth correctly. It can go a long way in determining your oral health. Even simple changes in eating, like incorporating more healthy choices, can have a huge impact on your oral health. General dentistry doesn't just stay within our walls – it involves great oral habits at home.
Schedule a Checkup
We invite you and your family to come see us. We have the dentists Cumming, GA residents can count on for excellent service. By staying ahead of the game and keeping you and your family's oral health in great shape, you're also encouraging their overall health to remain strong. See us today!