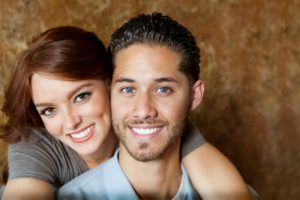 Porcelain veneers have a nickname: instant orthodontics. That's a pretty accurate description, too. Veneers are microthin layers of dental porcelain or composite resin that Dr. Katherine Lee or Dr. Brian Lee bond to the teeth that people see when you smile. In this way, porcelain veneers instantly correct a number of cosmetic flaws such as:
Teeth that are irreversibly stained or discolored and have not responded to professional teeth whitening
Teeth that have wide spaces between them
Misshaped teeth
Teeth that are smaller than other teeth
Teeth that are chipped or broken
Slightly crooked teeth
If your smile is beset by any of these imperfections or another flaw that makes you unhappy or hesitant to smile, then talk to one of us at Dentistry at Windermere. You may be a perfect candidate for porcelain veneers or another treatment called Lumineers®.

For Porcelain Veneers, Cumming, GA, Residents come to Drs. Lee
Traditional veneers require two appointments in our office. At the first visit, we'll need to slightly file down the teeth receiving veneers. Only a minimal layer of enamel is removed. This is done to ensure that your permanent veneers fit comfortably and attractively in your mouth—we certainly don't want your new smile to protrude and look unnatural.
Removing enamel permanently alters your teeth. So, once your permanent veneers are bonded to your teeth, you'll always need them to have a pleasing smile. But let's say you don't want to permanently change your teeth. In that case, there are Lumineers.
Lumineers also conceal the flaws in your smile but these coverings are much thinner than traditional porcelain veneers. In fact, they're about as thin as a contact lens. Because they're so thin, we probably won't need to alter your teeth at all if any. So, there are no shots, no anesthesia, and no temporaries that have to be worn while your permanent veneers are manufactured. Moreover, if you ever decide to remove the Lumineers—say for orthodontic treatment or another cosmetic or restorative procedure—you'll be able to do so without any change in the appearance of your natural teeth.
Call Our Office Today
If your smile isn't all that you'd like it to be, then contact Dentistry at Windermere in Cumming, GA, to schedule a porcelain veneers consultation. We would be happy to meet with you and show you how this cosmetic treatment with either traditional veneers or Lumineers can enhance your smile.