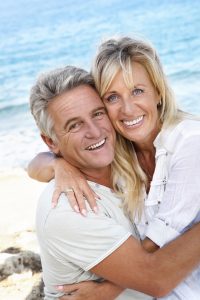 Many people use the terms smile makeover and full-mouth reconstruction interchangeably. Although both end up improving the appearance of a patient's smile, they are different procedures with different purposes. A smile makeover is planned and performed strictly for cosmetic purposes—because you want your smile to look as attractive as possible. Full-mouth reconstruction, on the other hand, is primarily done to restore the functionality of your teeth and, therefore, usually includes a combination of restorative and cosmetic dental treatments. If your smile needs to function and look better, Drs. Katherine and Brian Lee at Dentistry at Windermere in Cummings, GA, can create a plan for full-mouth reconstruction that's just right for you. Let's take a look at some of the procedures that might be included in your customized plan.

Tooth-Colored Fillings
Because full-mouth reconstruction is geared toward restoring your oral health, Drs. Lee will want to make sure all of your teeth are decay-free. For teeth with cavities, there are tooth-colored fillings that rebuild teeth with composite resin materials rather than silver fillings that leave a dark spot. Today's tooth-colored fillings are just as strong and long lasting as the old amalgam, or silver, fillings.
Tooth Replacement
Full-mouth reconstruction often necessitates replacing missing teeth. Dentistry at Windermere offers several options. Dental implants are probably the most lifelike choice in that these replace the root of a tooth—the implant portion—as well as the crown. Once the implanted post is integrated with your jawbone, a porcelain crown or denture is affixed to the top of the implant, giving you a well-anchored tooth replacement.
Another popular choice for tooth replacement is a crown and bridge. With this, healthy teeth that are adjacent to missing teeth are prepared for crowns. Your crown and bridge is custom crafted in a dental lab; the crowns and the bridge of false teeth that replace your missing teeth are fabricated as one piece. Once the crowns are bonded in place, the crown and bridge seamlessly recreate the normal appearance and function of your smile.
Cosmetic Dentistry Procedures
Once the functionality of your smile has been ensured, Drs. Lee will complete your full-mouth reconstruction with cosmetic dental treatments. Depending on the needs of your smile, these procedures may include:
Teeth whitening
Porcelain veneers
Minimal prep Lumineers
Invisalign clear braces
Call Our Office Today for Full Mouth Reconstruction
For full-mouth reconstruction, Cummings, GA, residents trust the skill, experience and even creativity of Drs. Katherine and Brian Lee at Windermere Dentistry. Speak to our staff to learn more or to schedule a consultation.