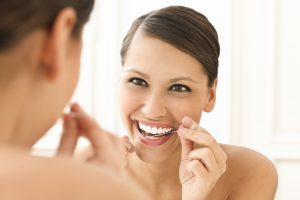 Gum disease begins with plaque, which is that colorless and sticky bio film that our mouths produce all day, every day. Removing plaque is an important part of your daily oral hygiene routine that helps you avoid not only gum disease—gingivitis and periodontitis—but also tooth decay. Brushing removes plaque from the surfaces of your teeth, but what about the plaque that hides in between your teeth and along the gum line? For that you must floss. Your dentist in Cumming, GA, Dr. Katherine Lee or Dr. Brian Lee at Dentistry at Windermere, want you to floss as well as possible. So, here is a countdown of their top three tips for better flossing.
Tip #3 for Better Flossing
Don't be stingy. The average roll of dental floss contains 120 yards—that's longer than a football field! So, tear off enough and some to spare. Drs. Lee recommend using about 18 inches. This way you'll be able to use a clean section of floss as you advance from one pair of teeth to the next. You can wind the excess from either end around your forefingers or middle fingers on both hands; then release from the finger on one hand and take up on the other.
Tip #2
Be gentle, but firm. With one or two inches of floss taut between your fingers, gently guide the floss between your teeth. While firmly pressing against one tooth and then the other, zigzag the floss back and forth and up and down. Be sure to floss down below the gum line, but be careful not to snap the floss against your gums.
The #1 Tip for Effective Flossing!
Just do it. Flossing takes about two minutes, and too many people don't do it regularly. And by regularly, we mean once a day. If you're too rushed in the morning, then floss at night. If you're too tired at night, then floss in the morning. You can even floss in the middle of the day if that's the most convenient time for you. The point is that in order to remove the plaque that can lead to gum disease and tooth decay, you must floss. So, just do it!
Call Your Dentist in Cumming, GA, Today
For more tips on flossing and other components of your at home oral hygiene routine, schedule a checkup at Dentistry at Windermere in Cumming, GA. We'll be glad to show you how you can get the most out of brushing and flossing.