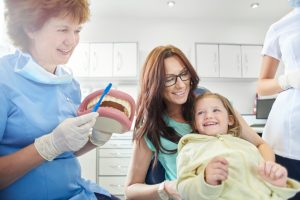 As a parent, you want your children to grow up with the best oral health possible. So, you teach them at home to brush properly twice a day, to floss their teeth and to eat nutritious, well-balanced diets to keep teeth and gums strong and viable.
Children's dental care makes a difference
Drs. Brian and Katherine Lee, kids' dentists in Cumming, GA, understand. This husband and wife have 2 growing children of their own; so one of their passions is the care and treatment of young teeth and gums.
Prevention, of course, is key. In-office cleanings and check-ups begin young–as soon as that first baby tooth erupts. That's the right time to bring your little one to Dentistry at Windermere for a get-acquainted visit and begin establishing a warm, comfortable relationship with his/her friendly dentist.
What children's dentistry entails
It's so important to teach good oral hygiene habits to even the youngest of kids. Drs. Brian Lee and Katherine Lee tell parents to brush their toddlers' teeth with a smear of fluoride toothpaste, and to supervise kids old enough to have the dexterity to brush and floss for themselves.
During 6-month check-ups and cleanings at Dentistry at Windermere, the doctors, hygienists and assistants make dental care comfortable and fun, showing children the best ways to take care of their teeth and to give lessons on tooth-friendly foods and beverages.
A routine exam also includes:
Counting teeth and checking development of the jaw and adult teeth
Looking at how teeth bite together
A visual inspection for gum disease and dental decay, a major chronic disease among kids
Digital x-rays when needed to look at developing teeth, roots and bone structure
At age 7, the dentists recommend an orthodontic evaluation. Treatment with braces often begins sooner than in previous generations to take advantage of bone and tooth development.
Also, preventive dental service include fluoride varnishes applied to tooth surfaces and plastic sealants for backmost molars–both effective in protecting young teeth from tooth decay. The Cummings, GA kids' dentists watch for problems with wisdom teeth, or third molars. Often troublesome by way of crowding, impaction and infection, Dr. Brian Lee and Katherine Lee perform extractions as necessary.
Does your child need braces or restorative care?
Dentistry at Windermere help with these procedures as well, always ensuring a pain-free and fear-free experience. They treat each youngster as they would one of their own.
Call for an appointment
If you are wondering which dentist in Cummings to use for your kids' dental health needs, look no further than Dentistry at Windermere. Contact the office today to set-up a routine consultation for your child.