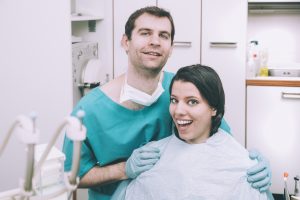 Although it may not seem like a very big deal to many, dental fears are a serious challenge. Dental fears and phobias cause many to avoid the dentist at all cost. As a result, they do not visit the dentist regularly, and often not until after a serious problem has developed. Thankfully, you can take control of your dental fear with a sedation dentist in Cumming GA. With your general and cosmetic dentist, sedation will help you relax even during the simplest of procedures, so you can make your oral health a priority without the fear.

How Can Sedation Help Me?
Sedation is a simple way to make going to the dentist easier. A sedation dentist is specially trained to use sedation medication, allowing it to be safe and effective. Despite popular belief, sedation is not just used with oral surgeries, such as the extractions of wisdom teeth or dental implants. Sedation can be used with just about any procedure to help you relax. No matter if you need a dental cleaning or a crown and bridge, we can use sedation to make the experience more comfortable.
Sedation is now a popular choice for those who have fears and phobias, as well as strong gag reflexes, difficulty staying in one position for too long, and even for those who have jaw or neck pain. The entire experience will enhance comfort, allowing you to relax so we can deliver comprehensive care.
Types of Sedation
There are various types of sedation that can be used during dental procedures. The type of sedation used depends on your exact comfort levels and the procedure being performed. At Dentistry at Windermere, we offer two types of sedation: nitrous oxide sedation and oral conscious sedation.
Nitrous Oxide Sedation: Better known as laughing gas, nitrous oxide sedation is inhaled through a mask that's worn over the mouth and nose. This form of sedation is among the most widely used and safest because it is effective. You will completely feel relaxed during the procedure as the sedation quickly takes effect. After we are done with the procedure, the mask is removed and the effects of the sedation quickly wear off.
Oral Conscious Sedation: Oral conscious sedation involves taking a prescribed medication at home prior to coming into our office. You will become drowsy and feel very relaxed. You may even fall asleep and not remember the appointment the next day. However, you will remain conscious so you are able to respond to verbal ques from the dentist. The effects of the medication can take a few hours to wear off so you will need someone to drive you to and from your appointment.
Your Sedation Dentist in Cumming GA
As a sedation dentist, we understand that dental fears are not a simple problem. We work with those who have dental fears because we believe dentistry should be comfortable for everyone. Do not let dental fears keep you from visiting our office. We will help you enjoy the dental experience as a sedation dentist in Cumming GA.