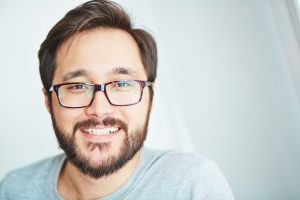 "Have I seen them before?" you think to yourself. You've worked at the same place for a few years now and you thought you knew everybody. Whoever you just saw was unfamiliar. It's even stranger when they sit right across from you, as they've done every day for the past year. "Oh wow, I didn't even recognize them." Your normally taciturn cubicle mate is chatty and laughing more than they have in all the time that you've know them. The change in demeanor is only outshined by their glowing smile. That has to be different, you think to yourself. A bright, confident smile gives many people the social courage they normally do not have. Do you want your smile to shine as well?  A cosmetic dentist in Cumming has a few options for you to consider.
What Are My Cosmetic Dentistry Options?
Drs. Brian and Katherine Lee offer a variety of cosmetic dental services that improve every aspect of your smile. A few of these include:
Invisalign and Six Month Smiles
Porcelain Veneers and Lumineers
Teeth Whitening
Invisalign and Six Month Smiles
These two methods are meant to help straighten your teeth. They accomplish this through distinctly different methods. The Invisalign system is implemented through a series of plastic alignment trays that slide over the top of your teeth. The trays are progressive and gently move your teeth into alignment over time. They have advantages over traditional braces in that they are removable and nearly invisible while being worn.
Six Month Smiles is an orthodontic treatment that concentrates on straightening the teeth that people typically notice the most, namely your top 4 front teeth. Clear ceramic brackets are bonded to the front of the teeth and held in place with a tooth colored wire and rubber bands. They are practically invisible. The treatment is very concentrated, so the usual length of time braces need to work (which is over a year) is drastically reduced to about 6 months.
Porcelain Veneers and Lumineers
Drastic changes can be made to the alignment, color, shape, and size of your teeth with porcelain veneers. They are extremely thin ceramic shells that are attached to the front of your teeth using a strong liquid resin. The process is painless and can be accomplished in as little as two visits. Typically, a portion of the natural enamel has to be taken away to make room for the veneers, but Dentistry at Windermere also offers minimal-prep lumineers that preserve more of the natural teeth's structure.
Teeth Whitening
Everyone wants a brighter, younger looking smile. This can be easily accomplished by having your teeth whitened. We can offer both in-office and take home whitening kits depending on your schedule. Both procedures work by applying a special whitening gel to your teeth which will take off years of coffee, wine, or tobacco use. Most results see patients' teeth become 5 to 6 shades whiter.
Which Procedure Should I Get?
Your smile needs a little help from time to time. If you are looking to give it some extra zeal, come see Drs. Brian and Katherine Lee at Dentistry at Windermere. They can take a look and you both can determine what is the best choice for your cosmetic dental needs.