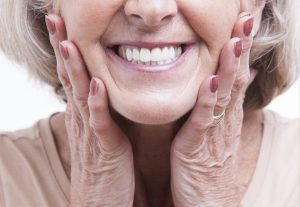 If you wear removable dentures, then you may occasionally experience some problems. For example, your dentures may make a clicking sound when you chew or speak. They may also loosen over time and begin to irritate sensitive gum tissue. Worst of all, removable dentures have been known to pop out at the most inopportune times. You don't have to contend with these issues. Cumming dentists Drs. Brian and Katherine Lee offer implant-retained dentures. With these, you'll have the beauty of a full denture and the security of dental implants.
Cumming Dentists and Your New Dentures
Both Drs. Lee are uniquely qualified to help patients who want dental implants. Each is a Master of the American Dental Implant Association and a Fellow of the International Congress of Oral Implantologists. After thoroughly examining your teeth, periodontal tissue and jawbone, they will be able to help you decide whether or not implant-retained dentures are best for your new smile.
Dental Implants in Cumming
If you are a qualified candidate for implant-supported dentures, then the first step is surgically positioning the implants in your jawbone. How many implants you need will depend on whether you are receiving a partial or full denture. Each implant is precisely placed along your jaw to take advantage of the most bone density, which affords you a more stable denture.
Each implant is a small titanium post. After anesthetizing your gum tissue and jaw, the dentist makes a small incision in the gum in order to reveal the bone. The implants are then secured in your jaw and the incision is sutured closed. During the healing time from this oral surgery, we'll give you an overdenture to wear that will protect your gums and allow you to chew, talk and smile.
While your gums heal, the dental implants and surrounding bone tissue bond. Titanium is a biocompatible metal, so the post and bone fuse together just like your natural tooth root. This bond is what provides the security to hold your denture in place.
In addition, the implants help to keep your jaw strong and healthy. With implants in place, the bone is stimulated to grow new cells so your jaw continues to look full and youthful. Many people who have suffered tooth loss or who wear removable dentures have bone deterioration that causes an older appearance.
Receiving Your Implant-Retained Dentures
Once you've completely healed, you'll return to Dentistry at Windermere to have one of our dentists attach your customized implant-retained dentures to the posts. A metal framework that runs along the underside of your dentures fits tightly over your dental implants. Thanks to your implant-retained dentures, you'll never worry again about the problems that can happen with removable dentures.
Contact Our Office Today
To learn more about implant-retained dentures, or to find out if they are right for you, schedule a visit with Dr. Brian or Katherine Lee at Dentistry at Windermere.