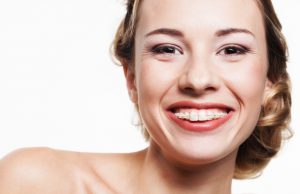 Life in Cumming, GA is pretty great – your kids are healthy and doing well in school, your business is growing and your husband couldn't be prouder of all you've done to build such a beautiful life for your family. You love being right outside Atlanta, and you have a lot to smile about – except when it comes to your teeth. They've been crooked all your life, and now's the time to finally make them perfectly straight. But, you don't have a lot of time to devote to braces, and you don't want potential clients to notice your straightening efforts. What can you do? Dentistry at Windermere, your dentist in Cumming, knows Six Month Smiles is the option for you.

What Are Six Month Smiles?
Six Month Smiles is a revolutionary way to correct your alignment issues in as little as half a year, as the name suggests. We use patented Lucid-Lok™ clear brackets and tooth-colored wires that blend in perfectly with your natural teeth and are practically invisible. With the advances in these brackets, teeth are quickly yet gently moved into place – and, you won't have to worry about a mouthful of metal, or wearing braces for 2 to 3 years. Most patients are completely finished with treatment in just six months.
Six Month Smiles will give you the straight teeth you want while saving you time and money – these invisible orthodontics are generally less expensive than traditional metal braces, clear aligners, and porcelain veneers. And, you'll experience less discomfort than with regular orthodontics, since this treatment exerts a lower amount of force on the teeth that are moved into place.
Do Six Month Smiles Really Work?
Yes – we can confidently reassure those who ask that this innovative technology works well for many patients. And, if you still doubt that Six Month Smiles can get the job done for you, look at the results from a regular person who dealt with complex misalignment issues and used this treatment.
Can I Afford Six Month Smiles?
At our practice, Drs. Brian and Katherine Lee are well-versed with insurance coverage for orthodontics. We accept over 10 different plans, we use CareCredit financing for qualified customers who are worried about coverage gaps, and we even offer a special $500 discount for patients who don't have orthodontic insurance. And, if you have a health savings account, you can definitely use your funds to pay for your smile upgrade.
Now that you're convinced that Six Month Smiles can give you the perfect smile you deserve, schedule your appointment today with your premier cosmetic dentist in Cumming to get the straight teeth you've always wanted.