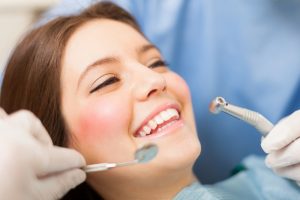 When it comes to visiting the dentist, it is not an easy experience for everyone. Everyone has different comfort levels and unique needs when seeing their dentist in Cumming. For some, they are fearful of the dentist while others cannot lay in one position for too long or have a low pain tolerance. No matter the cause behind your discomfort, oral conscious sedation can help. Although many believe sedation can only be used for surgeries, it can be used for many dental procedures, such as deep cleanings. If you need a little help relaxing during your cleaning, sedation can help.

Relax During a Deep Cleaning
A deep cleaning is different than your traditional dental cleaning. At routine dental appointments, the surfaces of the teeth and in between the teeth are cleaned above the gum line. However, a deep cleaning goes a step further to clean below the gum line. Often referred to as scaling and root planing, a deep cleaning removes bacteria and tartar that has collected below the gum line. Since the treatment is more invasive than a traditional cleaning, it can cause discomfort.
If you are worried about the procedure, oral conscious sedation will help you relax while minimizing discomfort. After accessing your dental needs and comfort preferences, our team at Dentistry at Windermere will determine if you are a candidate for sedation dentistry.
Benefit from Sedation Dentistry
Oral conscious sedation is a mild sedative that is prescribed prior to your appointment. You will take the medication orally before your appointment so you will need someone to drive you to the dental office. Shortly after taking the medication, it will take effect. You will remain conscious during your treatment, which allows you to respond to the dentist's questions and ques. However, you will be fully relaxed. You will not be aware of the amount of time you are spending in the chair or of any pain and discomfort. After the procedure is complete, it will take a few hours for the medication to wear off. Therefore, you will need to make arrangements to have someone drive you home from your appointment.
Candidate for Oral Conscious Sedation
Sedation dentistry can be used for a wide range of purposes, such as to overcome dental fears. In addition, those who have strong gag reflexes or have a hard time laying in one position for too long will benefit from sedation. If you need a lengthy or invasive treatment, like a deep cleaning, you will benefit from oral conscious sedation.
Although sedation is safe and effective, you will require an initial consultation to ensure you are a candidate. There are certain medical conditions and medications that may prevent you from using the sedative. Your dentist will discuss your medical history prior to recommending sedation for your deep cleaning.
Relax and Enjoy the Dentist
If you are fearful of the dentist or have a low pain tolerance, oral conscious sedation can help. Contact our office today to schedule a consultation to see if sedation dentistry is the right option for you.