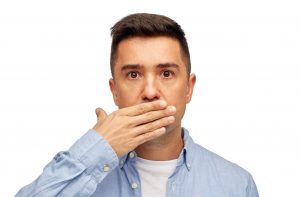 Teeth that are crooked or overlap diminish your smile and your confidence. Your numerous serious photos can attest to that. However, did you know that misaligned teeth also affect your oral health? This is because teeth that overlap are harder to brush and floss properly, and this increases your risk of developing tooth decay, cavities, or gum disease. If you've considered straightening your teeth, the good news is that there are many great options that can accomplish your goal with discretion. Your dentist in Cumming explains the difference between Invisalign and 6-Month Smiles and how they might benefit you.
What is Invisalign?
Instead of using traditional brackets and wires to straighten your teeth, Invisalign uses clear plastic aligners. The aligners are customized to fit snugly against your teeth and apply gentle pressure, which gradually moves them. Aligners need to be worn at least 22 hours per day; however, because they are clear and tight fitting, they are virtually invisible.
Aligners are also convenient because they can be easily removed for brushing, flossing, and eating. This means there are no restrictions to your diet or changes to your home care routine, which makes Invisalign even easier for busy adults and teens.
6-Month Smiles
6-Month Smiles utilizes brackets and wires to align your "sight line," or front six teeth. Wires and brackets are tooth-colored, making this treatment hardly noticeable. Because the focus is only on your front teeth, treatment can be completed in a matter of months. This quick and effective treatment is a great way to align teeth that may have shifted over time or are slightly misaligned.
Which Treatment is Right for Me?
Dr. Katherine and Dr. Brian Lee can determine which treatment will best suit your needs with a thorough examination and x-rays of your teeth. After discussing your goals for your smile with you, our doctors can determine which procedure will best suit your lifestyle, needs, and budget. If Invisalign or 6-Month Smiles are not in your future, our doctors are happy to recommend other treatment that may better meet your needs.
Give Dentistry at Windermere a call today to schedule your consultation and learn more about what we can do for your smile!