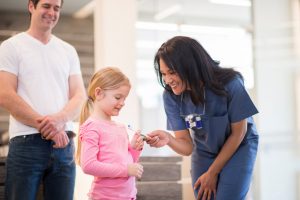 You know that you need preventive care with your dentist in Cumming every six months to keep your teeth and gums healthy, but did you know that children also require these appointments? Although the baby teeth eventually fall out, children still need a cleaning and checkup to develop and maintain healthy smiles. To ensure the care that they receive, they need a children's dentist.

What is a Children's Dentist?
A children's dentist has experience catering to young patients to promote oral health from infancy through the teen years. They have the skills necessary to care for the teeth, gums, and mouth throughout every stage of childhood. In addition, they understand the comfort levels of young patients to make going to the dentist easy and enjoyable.
When Should My Child See the Dentist?
It is recommended that your child has their first dental appointment shortly after the first tooth erupts. Although this may seem unnecessary, it sets the foundation for their dental care. During their first visit, the dentist will perform a visual examination of their mouth and may try to clean their teeth. While not many dental procedures will be performed, this appointment is vital to helping your child develop a relationship with their dentist. As a result, they are less likely to become fearful and will enjoy their dental appointments.
How Often Does My Child Need an Appointment?
After your child's first appointment, they will need a cleaning and checkup every six months. As your child ages, the visits will become more involved to also include x-rays. In addition to a visual examination, the x-rays allow the dentist to see the development of the teeth, even before they erupt. This allows potential issues to be detected early for prompt intervention. By doing so, this ensures that they will develop the healthy oral functions that are needed for chewing and speaking while also reducing their risk for needing an invasive treatment in the future.
The appointment will also include a thorough cleaning to remove harmful plaque and tartar accumulations. Your dentist will also discuss proper oral hygiene habits to teach your child how to care for their teeth and gums properly to set the foundation for a lifelong commitment to dental health.
Certain preventive procedures, like dental sealants or fluoride treatments, may be recommended to help keep the teeth strong and healthy. Your dentist will also discuss any habits, like thumb sucking, to create a proactive plan to protect their smile from damage.
Promote a Healthy Smile
If your child has not been to the dentist in the past six months, do not wait for a problem to develop. Schedule an appointment today to foster a lifelong healthy smile.
About Dentistry at Windermere
At Dentistry at Windermere, we strive to create a path to optimal oral health and wellness for our patients that will last for a lifetime. We cater to patients of all ages, even children, to ensure that your family will develop and maintain healthy teeth and gums. If you have questions about your child's first appointment, contact our office today to speak with a member of our team.