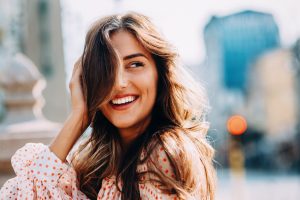 When you have missing teeth, you know one thing is for sure: you have to replace them. This isn't just because your dentist in Cumming said so, it's for the benefit of your overall health and confidence!
Learn more about how dental implants can even improve your bone density and prevent conditions like osteoporosis.
Dental Implants Can Improve Bone Density
Osteoporosis is a condition that affects a person's bone strength, causing the bone tissue throughout the body to become weaker with time. The more the condition develops, the more likely a patient is to experience fractures.
The type of medications often used to treat osteoporosis is a class called bisphosphonates — but for already weak bones, this class of drugs can decrease blood flow and cause the bone to die even faster. When it happens in the jawbone, tooth loss becomes a bleak reality!
After conducting some research, studies found that implants were successful in replacing teeth, even for patients with existing osteoporosis—meaning that it could be possible to rebuild the strength of their jawbone once again. Not only will you enjoy a stable, secure tooth replacement, but your overall health can improve.
Best Candidates for Dental Implants
At least three factors will be considered when evaluating your eligibility for dental implants: your oral health, overall health, and lifestyle choices that can impact the success or failure of dental implants.
Oral health: Patients who have been missing teeth for many months or who have had serious cases of periodontal disease suffer from tooth loss and significant bone density loss. Dental implants need plenty of healthy bone tissue to be successful — a bone grafting procedure can help rebuild that lost structure if need be.
Overall health: Certain diseases affecting the immune system, like uncontrolled diabetes and advanced-stage cancers, affect a patient's ability to recover after the oral surgery that's required to place implant posts. People with these and other serious health conditions experience better results with another dental restoration option.
Lifestyle choices: Smoking and tobacco decreases your oral health and greatly increase the risk of implant failure by interfering with the healing process. Talk to your dentist if you smoke and are interested in dental implants.
Interested in finding out how dental implants can improve your oral and overall health? Don't wait to get in touch with your implant dentist!
---
Meet Your Dentist
Since 2003, Drs. Katherine and Brian Lee have been providing high-quality, comprehensive general and family and cosmetic dentistry services for patients all over the Cumming area. Nothing would make us happier than to help you solve your oral health problems, like tooth loss, with dental implants in Cumming. Learn more about how we can assist you during a scheduled consultation.