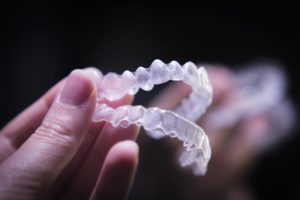 Do you have misaligned, gapped, crowded or crooked teeth that leave you feeling embarrassed and less confident? Do you desire to make corrections but don't want to wear traditional braces? Your dentist in Cumming says there's a way to get the smile of your dreams in a convenient way – Invisalign clear aligners. Learn how the process works as you read on.
What is Invisalign?
Invisalign clear aligners are BPA-free plastic trays that are custom-made just for your teeth and functional needs. The process starts with a consultation, where your dentist explains the process and examines your teeth to make sure you're a good fit for the Invisalign method. If you have more complex functional corrections needed, your dentist may recommend the more conventional method.
However, the advanced technology used to create your new aligners allows for the majority of patients to be eligible for the procedure.
After the Consultation
After you and the dentist have discussed your condition and it's determined that you're a good candidate, you'll have X-ray photos taken and have bite impressions taken. The information will then be sent to a trusted lab to fabricate your new aligners.
When your custom trays are ready, you'll return to your dentist to retrieve a few sets at a time. You'll wear each pair for two-week periods and return to your dentist's office every six weeks for a checkup.
How the Process Works
The Invisalign method is unique in that it doesn't require any wires or brackets to correct your smile. Instead, you'll wear the custom trays for at least 20 hours a day, so that you can stay on track with your progress.
Your treatment process will also be more comfortable than if you were wearing braces. The custom trays will gradually move your teeth, yet the process is still usually much faster than with traditional braces. Your dentist will use the precise Invisalign technology to determine an accurate treatment time.
What Happens After Your Treatment is Done?
After you're done with your last tray, you'll then need to wear a set of retainers. This is because the bone beneath your gums hasn't completely settled into its permanent position yet. Thus, the retainer helps to hold your teeth in place until the new bone forms and is cemented in its permanent position.
The Benefits of Corrected Teeth
Having properly aligned teeth has several benefits, including:
You'll be able to chew your food better and have improved digestion.
Your pronunciation will be vastly improved with corrected ivories.
You'll also be able to perform better oral hygiene. That's because with straight teeth, you can clean and floss properly.
Your confidence will shoot through the roof because you'll have a perfect smile.
To learn more about how you can experience the more convenient way of correcting your teeth, reach out to your dentist to schedule an appointment today!
About the Author
A graduate of the University of Pittsburgh School of Dental Medicine, Dr. Katherine J. Lee has over a decade of experience caring for patients. In her postgraduate capacity, she continues to improve her skills and expand her knowledge by taking continuing education courses. Dr. Lee helps patients experience smile perfection at Dentistry at Windermere and can be reached for more information through her website.