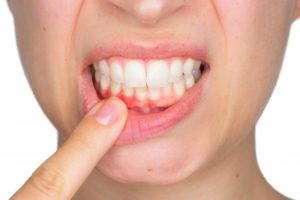 Do you notice pain while biting down or blood on your toothbrush? If so, there's a good chance you have developed gum disease and need to seek treatment. However, if you're afraid of what treatment will entail or have a fear of dentistry in general, getting the treatment you need seems impossible. This only puts your oral health at risk.
Luckily, you can rest assured that your dentist in Cumming has you covered. With laser gum therapy, you can manage your gum disease more easily and with less pain.
How Does Periodontal Disease Develop?
The main reason your dentist emphasizes the importance of daily oral care is to prevent tooth decay and gum disease in between your dental visits. Over time, your gums become covered with a sticky, colorless substance known as dental plaque. This sticky film consists of bacteria and only hardens on top of the teeth and gums if not removed. This leads to inflammation, redness, and eventually soreness and bleeding to occur.
By brushing twice a day with fluoridated toothpaste, flossing daily, and seeing your dentist every six months, you can prevent gum disease entirely. However, if you have trouble seeing the dentist or your oral care isn't up to par, gum disease can easily develop, making basic tasks like chewing food and brushing painful.
Furthermore, gum disease can also easily develop if:
You use tobacco regularly
You're more genetically predisposed to developing it
You have a chronic immune disease
You're a woman experiencing hormonal changes (i.e. pregnancy)
You're taking medications that increase dry mouth
How Can Laser Gum Therapy Help?
The Waterlase Dental Laser is a large improvement from the typical scalpel and suture method to removing gum tissue infected with bacteria. Through the use of a highly concentrated beam of light and a steady jet of water, your dentist in Cumming can clean teeth, shape dental crowns, remove decay, and painlessly remove infected tissue.
As a bonus, LANAP laser gum therapy promotes tissue regeneration, unlike the invasive traditional methods. By doing this, laser gum therapy offers patient a shorter recovery time with less discomfort.
Is Laser Gum Therapy Covered Under Insurance?
The cost of periodontal treatment depends largely on the severity of the gum disease, degree of receding gums, extent of bleeding gums, and other services provided during treatment to examine the extent of the disease, such as X-rays.
Luckily, most PPO dental insurance plans offer periodontal coverage, ranging from routine treatment coverage to patients diagnosed with periodontal disease. The only time laser gum therapy wouldn't be covered is when it's for cosmetic purposes, therefore your deep cleaning treatment should be covered without mush issue.
When you visit your dentist in Cumming, you won't have to deal with sharp dental tools and weeks of healing. A better treatment method is here. Schedule an appointment today to feel the difference!
About the Author
Dr. Brian Lee has become an active member of the Academy of Laser Dentistry since earning his Doctor of Dental Surgery degree from the University of Michigan School of Dentistry. This helps him stay up-to-date on the latest advancements in dental laser technology and care. To learn more about his periodontal treatments, contact him through his website.