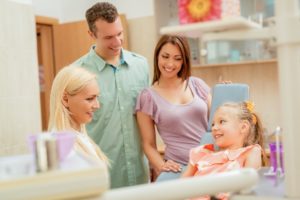 Does your family benefit from the care of one dentist? If not, you are complicating your loved one's oral health needs. Everyone has unique dental requirements that change throughout life. If you do not have a family dentist to care for them, it could mean running to different dental offices to get the services they depend on. To simplify scheduling appointments and to enjoy a higher standard for dentistry, you need one dental team by your side, but how do you know which is the right practice? When finding the perfect dentist, there are several things to consider.

Choose One Great Dentist
A family dentist allows your loved ones to enjoy more in-depth services. The dentist will have a deeper understanding of your family's oral health history and environmental factors that may influence their teeth or gums. This allows them to provide preventive care to reduce the risk of certain complications, like weakened enamel.
Complete Services
When raising a family, your schedule is busy. You do not have time to run to various locations for each loved one. You need a dentist who offers complete services under one roof. This will save you time and money by ensuring everyone's needs are met in-office, no matter the complexity of the issues.
When choosing a dentist, look for one who offers:
Preventive dentistry
Restorative dentistry
Cosmetic dentistry
Dental implants
Periodontal therapy
Orthodontics & braces
Sedation dentistry
Emergency Dentistry
Advanced Technology
Now, the latest advancements in technology promote the quality of care you receive as well as your comfort. Choose a dentist who embraces the newest innovations to enjoy world-class services. With digital x-rays, intraoral cameras, and 3D cone beam imaging, your dentist will have a complete picture of your loved ones' oral health to provide more accurate diagnosis and treatments. Using a Waterlase Dental Laser, they will benefit from less invasive treatments that provide more precise results.
Positive Reviews
You can learn a lot about a dental practice by taking the time to read online reviews and testimonials. You will read first-hand accounts from real patients to discover more about the comfort and care you can expect to receive from a dental team to ensure they are the right choice for your family. In addition to reviews, take the time to look at their smile gallery to see before and after pictures of their patients. This allows you to see the results they can produce to make an investment in the health and appearance of your family's smiles.
Get the Care You Deserve
Your family deserves to benefit from the best dental care possible. Place their smiles in the hands of a family dentist to promote lifelong oral health.
About Dentistry at Windermere
Dentistry at Windermere provides comprehensive dental care through all stages of oral health and development. We treat patients of all ages to create generations of healthy, beautiful smiles. If you need a family dentist, choose the community's trusted choice. Contact our office today to schedule an appointment.