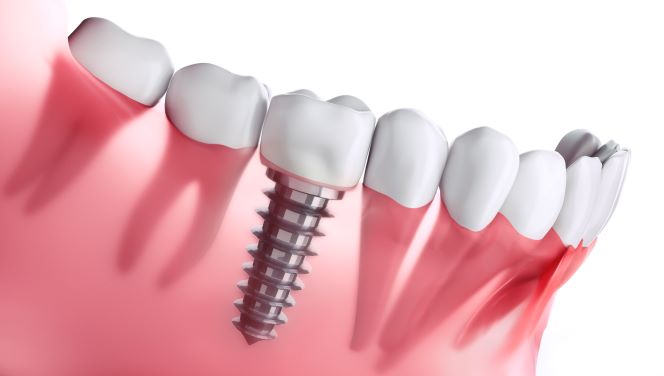 Studies show that about 120 million Americans are missing at least one tooth, making this one of our country's greatest health problems. There's good news, though. Your dentist can recommend a number of ways to restore your missing teeth. These include traditional dentures, crowns and bridges, and various types of dental implants.
Traditional Dentures
Dentures are perhaps the oldest form of tooth restoration on earth. George Washington owned several pairs of dentures; although, contrary to myth, none of them were made of wood.
As dentistry has progressed, the materials and methods used to create dentures have advanced as well. Today's dental patient has access to more and better options than ever before. These fall into two main categories:
Partial dentures. These are used for patients who still retain some healthy natural teeth and wish to keep them. They're held in place by pins or metal clasps.
Full dentures. These are used to restore all of the teeth on either the upper or lower jaw or both. This sometimes necessitates extracting the remaining teeth prior to creating the restoration.
Traditional dentures do have their drawbacks. For example, full dentures need adhesive creams to stay in place, especially for the lower jaw. They require the patient to use care when eating, playing sports, or engage in social activities. Nonetheless, they've helped tens of millions of people over the years to live healthier, happier lives.
Crowns and Bridges
These rely on the patient's remaining teeth to hold the restoration in place. For example, crowns fit atop the base, or root, of a tooth that has suffered damage from decay or injury. Bridges span the gap left by missing teeth and are anchored to a healthy tooth on either side of the space.
Both crowns and bridges are popular options for tooth restoration. They can last for 10 years or longer with proper care. However, they require the dentist to reshape the surrounding teeth, a fact that make some people uncomfortable. Also, patients with bridgework sometimes report that they can feel the appliance flexing. Talk to your dentist about these considerations during your upcoming appointment.
Dental Implants
Dental implants are currently the state-of-the-art approach to tooth restoration. They fall into three types:
Traditional full implants. These use a titanium fixture inserted into the patient's jaw beneath the gum line. It serves the same function as the roots of a healthy natural tooth. The visible restoration is crafted from a mixture of ceramic and other materials.
Mini-implants. These differ from traditional implants by using a pair of smaller titanium fixtures rather than a single unit. They're a better choice for people who have suffered some degree of jawbone atrophy.
Implant-supported dentures. These consist of a full or partial dental plate held in place by a series of implants. They require less underlying bone than traditional implants and offer many of the same benefits.
Remember, only your dentist can prescribe a specific form of tooth restoration. Make an appointment to see him or her soon to discuss your options. The facts you learn may be all it takes to make you smile.
About the Author
Dr. Katherine Lee has been practicing dentistry for more than 15 years. A graduate of the University of Pittsburgh School of Dental Medicine, she's proud to work alongside her husband Dr. Brian Lee in providing excellent care to the people of our area. You can reach her office online or by calling (770) 205-1212.