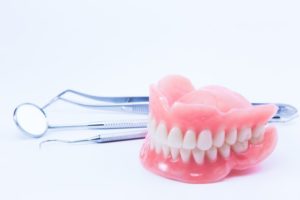 Have you had dentures in Cumming for a while, but are noticing that they're beginning to look and feel worn-down? Like all restorations, dentures need to be replaced every so often because the shape of your mouth can change over time. Even though you've been taking proper care of them, ill-fitting dentures or ones that need to be repaired can have negative impacts on your gum health. Read on to learn about denture repairment and when you should get them replaced.
When Should I Get My Dentures Repaired?
If you've noticed that your dentures are fractured, broken, or damaged, it's best to take them to your dentist to see if they can be repaired. Why? Because the damage can cause bacteria and food particles to build up in your restorations and transfer to your mouth. The more worn down they are, the more prone they are to breaking, which is why it's important to routinely get them examined by a dental professional.
If needed, your dentures can be relined and revitalized. If you notice the way they fit is changing, your dentist can add material to reline the base of them to help improve their function and feel. If more work is required, they may need to be sent to a dental lab instead.
When Should I Replace My Dentures?
According to the American Dental Association, your dentures can last anywhere from five to 10 years with proper care. If you've been wearing yours for this amount of time, it's important to have them regularly inspected by your dentist in Cumming to ensure that they're in good shape and fit your mouth correctly. Some ways that you can tell your dentures may need to be replaced are if you have:
Difficulty chewing. Over time, as your jawbone changes, your dentures can begin to shift or slide, making it hard to chew.
Chronic pain. If your dentures are worn down, it can impact your jaw and cause discomfort, headaches, earaches, and facial nerve pain.
Sores on your gums. Ill-fitting dentures can cause your gums to become irritated and be uncomfortable to wear.
Difficulty cleaning them. If you begin to notice accumulated food particles inside your dentures, they may be damaged or too worn down and need to be replaced.
Is There an Alternative to Traditional Dentures?
If you've had your dentures for nearly a decade and you're ready for a new kind of restoration that's easier to maintain, consider speaking to your dentist in Cumming about dental implants. These are dentures that are anchored to surgically placed posts fused with your jawbone that eliminate any slipping, shifting, or discomfort. They also help preserve your bone structure and can last for over 25 years when they're properly cared for. So, although the upfront cost of the procedure may be more, it could save you time and money down the road.
About the Practice
At Dentistry at Windermere, we have three experienced and knowledgeable dentists on our team that focus on providing our patients with individualized care and attention. They're dedicated to making every person that walks through our doors comfortable and welcomed. If our patients are looking for options to replace missing teeth, or are having trouble with their current restorations, our team of professionals is more than happy to help! All you have to do is contact us at 770-205-1212 or visit our website to schedule an appointment.