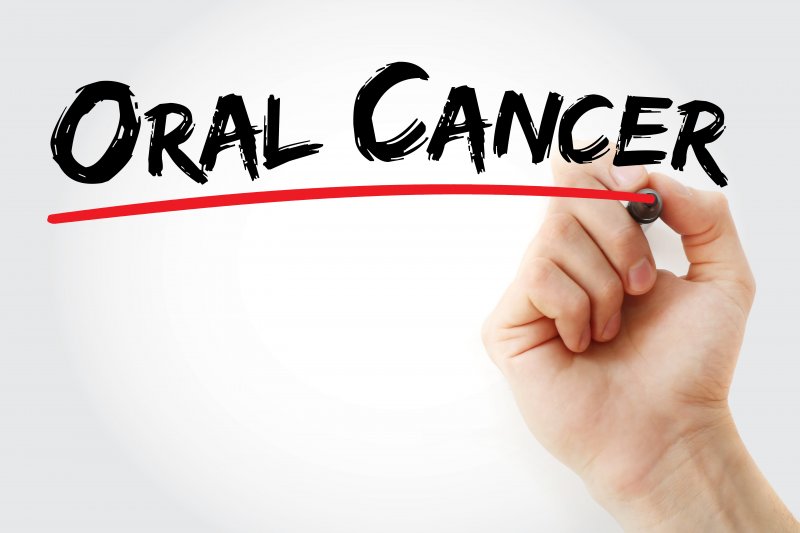 Being told you have cancer can be one of the most devastating events of your life, and unfortunately far too many patients receive this terrible news. Oral cancer is the sixth most common kind, with about 91,200 Americans living with the condition and roughly 8,000 dying each year as a result. To give yourself the best chance of survival, it's best to have the disease found and treated in its earliest stages. Read on to learn more about oral cancer – and how seeing your dentist in Cumming could make all the difference.
What is Oral Cancer?
As the name implies, oral cancer is any kind of cancer that forms inside the mouth, which is also called the oral cavity. This includes your gums, tongue, the roof and floor of the mouth, and the inner lining of your cheeks.
Cancer occurs when a mutation in your DNA causes your cells to grow and divide themselves when they're not supposed to. The out-of-control growth can form a tumor. Over time, a tumor inside the mouth can spread to other areas of the head or neck. The 5-year survival rate for oral cancer that hasn't spread is 83%, but once it reaches other parts of the body, those chances drop to 38%. This obviously means it's vital to catch the condition quickly.
How Can You Tell if You Have Oral Cancer?
There are several possible warning signs of oral cancer, including:
Sores on the lip and mouth that don't heal
A mass or growth anywhere in the mouth
Loose teeth
Difficulty swallowing
Lump in the neck
Bleeding in the mouth
Persistent earache
Weight loss
White or red patches in the mouth
Jaw pain, tongue pain, or sore throat
As you might have noticed, many of these symptoms can also be connected to other common conditions, so you might not realize they're connected to oral cancer at first. However, if you experience more than one of them at a time, or if they don't go away, you should call your dentist to schedule an appointment as soon as possible to confirm the diagnosis.
How Can Oral Cancer Be Diagnosed?
Oral cancer screenings are often part of regular dental checkups. The dentist will examine the inside of your mouth as well as the lymph nodes in your neck. They'll look for discolored patches and mouth sores; they'll also feel for lumps or other abnormalities. In some cases, a special blue dye or a light may be used to help with detection.
If any warning signs of oral cancer are found, you'll likely be referred to a doctor for further tests; the earlier this is done, the better your prognosis is likely to be. Be on the lookout for warning signs of cancer so that you can make a preemptive strike!
About the Practice
At Dentistry at Windermere, three highly experienced dentists provide their patients with comfortable, efficient, world-class care. During a checkup, in addition to a thorough cleaning of the teeth, they can perform oral cancer screenings that could make all the difference in surviving a potentially deadly condition. To schedule an appointment, visit their website or call (770) 205-1212.