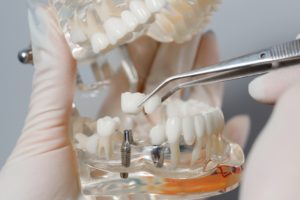 If you've experienced tooth loss, you have several options to fill the empty space; however, there's only one treatment that replicates the entire structure. Dental implants are the only solution to recreate everything above and below the gum line, including the roots. You can enjoy a prosthetic that closely mimics your natural smile while also having the potential to last for a lifetime. To ensure the long-term success of your new smile, you'll need to undergo a thorough consultation process. Here's what you need to know to determine if you're a candidate for dental implants.
Oral Health History
The overall success of dental implants relies on having the right foundation. Your dentist will perform an extensive examination to assess your oral health. Besides a visual examination and reviewing your oral health history, they will also take diagnostic images, including a CT scan. This allows your dentist to review your oral structures in their entirety to ensure there aren't any hidden complications brewing beneath the surface, like an infection or bone loss. The 3D images are also necessary to determine the ideal placement for your posts.
Bone Density
The density of your jawbone is a primary factor used to determine your candidacy for dental implants. Unfortunately, many patients experience bone loss, especially if they've had periodontal disease or untreated tooth loss. If you've lost density in your jawbone, you can become a candidate for dental implants with an additional procedure. Bone grafting will enhance the thickness of your jaw to ensure it can support the posts.
Medical History
Your dentist will discuss your medical history, including any medications you take. Certain medical conditions or medications can prevent you from getting dental implants, such as those that suppress the immune system or impact your body's ability to heal.
Oral Hygiene Habits
The long-term success of dental implants relies on keeping your smile infection-free. As a result, patients who are committed to their oral hygiene are often best for dental implants. Besides caring for your smile at home, you'll also need to visit your dentist at least twice a year for a cleaning and checkup.
Lifestyle Habits
Certain lifestyle habits can also impact your candidacy for dental implants, like drinking alcohol in excess or using tobacco. They can influence your body's ability to heal and fight infections, but that doesn't necessarily mean you can't get dental implants. Your dentist will explain the risks and advise you to change certain lifestyle habits to promote the success of your treatment.
Complete Your Smile Today
You can enjoy the next best thing to your real teeth using a solution that can last for several decades. Take your first step toward a complete smile by scheduling your consultation for dental implants.
About Dr. Brian Lee
Dr. Brian Lee earned his degree from one of the top dental schools in the nation. Besides his dental degree, he also has a degree in microbiology. Dr. Lee regularly continues his training to provide advanced solutions for his patients, including dental implants. If you're ready to replace your missing teeth, contact our office today for an appointment.