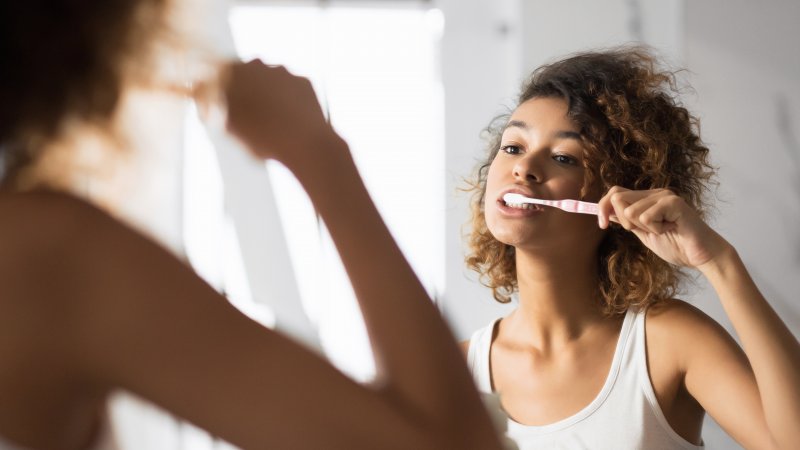 You've had the same toothbrush on your counter for months and months. The bristles aren't frayed and it seems to be getting the job done. If it's not broken, don't fix it, right? Even though it may seem to be holding up, toothbrushes older than four months do not clean your teeth as well as you might think. There's a reason your dentist recommends replacing your toothbrush every three to four months. If this situation sounds familiar, it may be time to get a new toothbrush.
Keeping Clean: Why You Should Regularly Replace Your Toothbrush
It's not always easy to tell when your toothbrush is past its prime. While many toothbrushes have indicator bristles to show you when it's time for replacement, not all do. Even if your toothbrush seems to be functioning well after three or four months, there is a lot going on inside of the bristles that you may not be aware of:
It's been proven that after just 40 days of use, the bristles of your toothbrush lose a lot of their efficacy. This is true for both manual and electric toothbrushes. If your toothbrush isn't cleaning your teeth effectively, you're more prone to tooth decay and periodontal disease.
You expose your toothbrush to germs and bacteria daily. Over time, bacteria can build up on your toothbrush's bristles, potentially putting you at risk for an infection or illness.
If you live in a household with other people, their germs and bacteria can spread to your toothbrush, especially if they've been sick. If someone in your home has recently had an illness, it may be advisable to get replacement brushes for the whole family.
A Good Fit: What to Look for When Choosing Your Next Toothbrush
When choosing a new toothbrush, there are a number of factors to consider. Both manual and electric toothbrushes have their pros and cons. Regardless of which type you choose, the most important thing is that you brush for two minutes, twice a day.
Manual Toothbrushes
Manual toothbrushes have the benefit of not needing to be charged to work. They are lightweight, easy to travel with, and can be purchased in many places. While perhaps not able to clean as thoroughly as their electric cousins, manual toothbrushes do a great job of removing plaque from your teeth when used regularly and properly.
Electric Toothbrushes
Since they can provide many more brush strokes in a shorter amount of time than manual toothbrushes, electric toothbrushes are more effective at thoroughly cleaning your teeth. Because they do the majority of the work for you, electric toothbrushes are ideal for those with limited mobility, arthritis, or carpal tunnel. Additionally, due to their high level of cleaning power, electric toothbrushes are great for those undergoing orthodontic treatment, as they can help to clean orthodontic appliances more completely.
Regardless of which type of toothbrush you choose, it's important to make sure that it can clean effectively. By following your dentist's advice and replacing your toothbrush or toothbrush head every three to four months, you are setting yourself up for success. If you keep good oral hygiene habits and replace your toothbrush often, you'll be smiling brightly for years.
About the Author
Dr. Brian Lee loves guiding his patients to optimal oral health. Ever since graduating from the University of Michigan School of Dentistry, he has made it his mission to continue growing his knowledge of comprehensive dentistry. He is a member of multiple dental associations as well as a Master of the American Dental Implant Association and a Fellow of the International Congress of Oral Implantologists. Dr. Lee seeks to give his patients the best treatment and dental education available at Dentistry at Windermere. If you'd like to learn more tips to stay on top of your oral hygiene at home, he and his team are happy to help or you can call the office at (678) 394-0303.