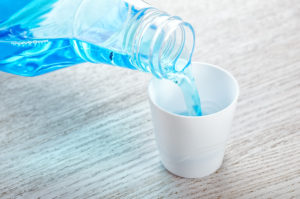 As dental offices begin to reopen in Georgia after the first wave of COVID-19, your dentist is putting an emphasis on patient safety and preventing the spread of infectious diseases like never before. For this reason, he or she may ask you to rinse with an antimicrobial mouthwash before showing up for your next checkup or consultation. Curious to know why? Keep reading to discover how antimicrobial mouthwash can act as an extra layer of protection from potential infection.
What the Research Says About Antimicrobial Mouthwash
According to research published in the National Library of Medicine, rinsing with an antimicrobial mouth rinse can completely kill microorganisms in the mouth in just 10 to 30 seconds! This includes harmful bacteria and germs that cause bad breath, plaque and gum disease. Although scientific research has not yet studied the effects of antimicrobial mouthwash against the COVID-19 virus, what is crystal clear is that this type of mouthwash can be a powerful tool when it comes to eliminating harmful bacteria and preventing potential infections. At a time when staying healthy is more important than ever, consider incorporating an antimicrobial mouthwash into your daily oral hygiene routine at home.
Can Mouthwash Double as Hand Sanitizer?
Frequently washing your hands is an important way to limit the spread of COVID-19 and keep from getting infected. That is why many people have taken to using hand sanitizer and even carrying travel-size bottles of sanitizer with them when they go out. However, if you happen to run out of hand sanitizer, is it important to know that mouthwash is not an effective substitute, even if it contains alcohol. The federal Centers for Disease Control and Prevention (CDC) recommend using hand sanitizers that contain at least 60% alcohol to kill germs. Of the varieties of mouthwash that contain alcohol (not all do), it typically makes up only 20%.
More COVID-19 Dental Safety Protocols
Asking you to rinse with antimicrobial mouthwash will not be the only change you will notice when making your next dental appointment. Your dentist and their team has implemented a range of new dental safety protocols to prevent the spread of infectious diseases, such as:
Pre-screening questionnaire
Fewer chairs and reading material in the waiting room to help maintain social distancing
Hand sanitizer at the entrance, in the waiting room and around the office
Sequenced scheduling to allow more time in between patients for cleaning and disinfection
These are just a few of the measures your dentist is taking to ensure your next visit is as safe as possible. To learn more about how to protect your oral and overall health during the pandemic, do not hesitate to contact your dental care team in Cumming, Georgia today.
About the Practice
For over 15 years, residents of Cumming, Georgia and surrounding cities have turned to Dentistry at Windermere for all their dental care needs. Dr. Brian and Katherine Lee, the dynamic husband-and-wife duo that leads Dentistry at Windermere, have always made patient safety their number one priority. That is why they have put into place new dental safety protocols at their practice in light of the COVID-19 pandemic. To learn more about these additional safety measures, visit the Dentistry at Windermere website or call 770-205-1212.