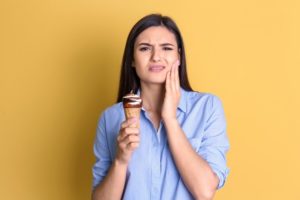 If you have ever avoided eating ice cream or drinking a hot cup of coffee because you know it will cause a toothache, you might be dealing with tooth sensitivity. According to the Academy of General Dentistry, about 40 million adults in the United States have sensitive teeth to some degree. So, what causes this problem? Let's examine some of the issues that contribute to dental sensitivity and how your dentist can treat it.
Anatomy of a Tooth
Underneath the hard outermost layer of your tooth, known as enamel, is a softer layer called dentin. Dentin contains microscopic tubules filled with nerve endings. When the enamel is worn away and can't protect the dentin, these nerve endings may become exposed to hot, cold, acidic, or sugary foods and beverages, resulting in serious discomfort.
Causes of Sensitive Teeth
Sensitive teeth can be caused by a variety of dental issues, such as:
Worn-down enamel from brushing too aggressively
Enamel erosion as a result of a diet high in sugary or acidic foods and drinks
Cavities, old fillings, or chipped or cracked enamel that exposes the dentin
Receding gums that expose part of the tooth's root surface
Habitually grinding your teeth at night (a condition called bruxism)
Whatever the cause of your sensitivity, it's important to see a dentist to determine the specific treatment needed to address it.
How Your Dentist Can Help
At your appointment, describe your symptoms to your dentist, including when they started and whether there's anything that relieves them, like a warm compress. Once your dentist figures out the cause of your sensitivity, they can treat its underlying problem. Treatment may be as simple as repairing a cavity or replacing a damaged filling, but in some cases, you might need an extensive procedure, such as root canal therapy or gum disease therapy.
How to Minimize Tooth Sensitivity at Home
If there is no obvious cause for your sensitivity, you may still be able to alleviate your discomfort at home. Ask your dentist to recommend a desensitizing toothpaste. Brushing with it twice a day should greatly reduce your symptoms in as little as two weeks. There are also specialized mouthwashes available to treat sensitivity. These products work by blocking the nerve receptors in the dentin from sending pain signals to the brain. Lastly, limit your consumption of sugary or acidic foods and drinks, like soda or citrus fruits.
There are many factors that can contribute to sensitive teeth. The best way to treat them is by contacting your dentist. That way you can get back to eating your favorite hot or cold foods in no time!
About the Practice
Dentistry at Windermere has helped the community of Cumming, GA meet their dental needs for more than 15 years now. Drs. Brian and Katherine Lee love nothing more than helping their patients relieve pain and achieve healthy smiles. In addition to both being Masters of the American Dental Implant Association and Fellows of the International Congress of Oral Implantologists, they are also members of various other professional organizations. If you currently have a toothache brought on by dental sensitivity, you can contact them at (678) 394-0303.