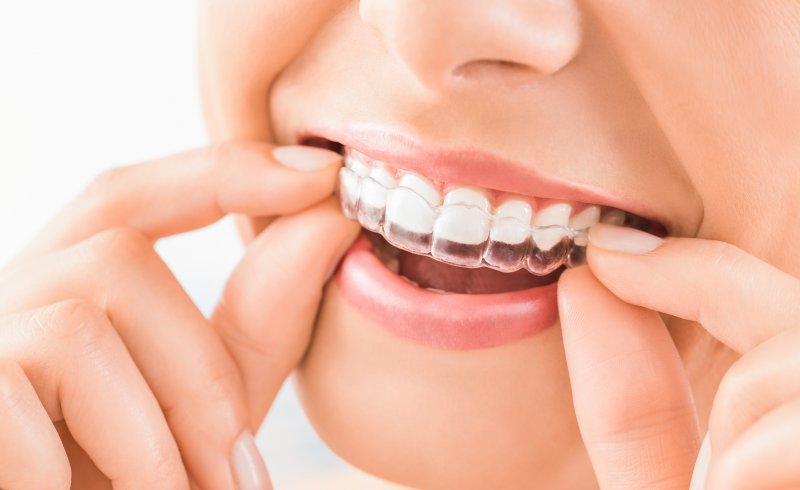 Do you have Invisalign in Cumming? This is a great method to help patients achieve their dream smile without having to deal with a mouthful of metal brackets and wires for who knows how long. The treatment has other advantages like allowing for more comfort, being practically invisible, and not requiring any food restrictions. However, it is easy to slip up on your treatment throughout the holiday season. A dentist in Cumming has some tips that will help you stay on track during the festive months.
Wear Your Trays All Day
While you can take out your aligners to eat and drink, you should be keeping them in your mouth for about 20 to 22 hours according to the American Dental Association (ADA). This is because if you aren't wearing your aligners for long enough, your teeth won't be moving in accordance with the treatment that your dentist created for you. Ultimately, you could end up prolonging your Invisalign treatment. If you have a tendency to forget, try to set a timer whenever you take them out to eat.
Keep Your Case with You
Even if you don't plan on taking out your aligners when you're on the go, you should still take your Invisalign case with you. It isn't uncommon for people undergoing the treatment to accidently leave them on a plate or napkin. This is how many people end up losing them by accident. When you keep them in their case, you are much less likely to lose them during the short periods of the day when you aren't wearing them.
Take Out Your Aligners Before You Eat
Every time you eat or drink, you need to remove your aligners. It may not seem like that big of a deal to keep them in when you have a sip of your morning coffee, but this is harmful. Not only can foods and beverages get stuck in your aligners, but hard liquids can warp their structure, bending them out of shape.
Clean Your Teeth
Each time you take your aligners out to eat or drink, you should brush and floss your teeth before you put them back in. If you don't, food and drink particles can get stuck between the trays and your teeth, increasing your risk of cavities. If you're traveling or attending any holiday get-togethers with family or friends this year, be sure to bring a toothbrush, toothpaste, and floss.
As exciting as the holiday season is, you shouldn't let it mess with your Invisalign treatment. By using the steps above, you can continue staying on track towards a beautifully aligned smile!
About the Author
Dr. Katherine Lee is an experienced dentist who has been practicing for well over a decade. She earned her dental doctorate from The University of Pittsburgh School of Dental Medicine and is a member of numerous professional organizations including the American Dental Association and the American Academy of Cosmetic Dentistry. For more information on Invisalign or to schedule a consultation, visit her website or call (770) 205-1212.