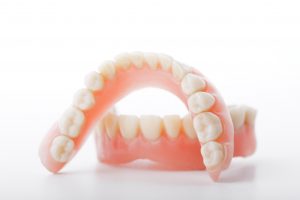 Dentures in Cumming are an excellent way to quickly regain a complete, confident, and functional smile for those with missing teeth. However, they use natural suction to stay in place as they rest on top of your gums. While this is usually enough to keep them stable, denture adhesive can help temporarily stick your dentures to your gums for more stability. However, this helpful product can be a little tricky to use if you're not used to it! Read on as we break down everything you need to know about using denture adhesive to keep your smile strong and comfortable.
Signs You Should Use Denture Adhesive
Thanks to their close fit, most people find that their custom dentures stay in place throughout their day-to-day lives without problem. However, you may need denture adhesive to:
Improve confidence: When you first begin wearing dentures, increasing their hold can help improve their comfort and your confidence in their security.
Increase stability in a dry mouth: Dentures rely on saliva to help create the natural suction that holds them in place, so those with a dry mouth may need to use an adhesive.
Enhance strength: Teachers, singers, presenters, athletes, and others who put extra strain on their face and mouth may benefit from improved strength with denture adhesive.
How to Use Denture Adhesive
There are several types of denture adhesives, including both creams and strips. Before applying either, rinse and brush off your dentures to ensure they're clean. After you've dried them off, apply the adhesive to your dentures following the instructions on the packaging. Typically, you'll place a series of small dots of adhesive cream or apply the strips to certain areas of your dentures. Then, press your dentures firmly in place and hold them there for several seconds.
A single application should last for a full day. If you find that you regularly need to apply more to keep your dentures in place, your dentures may not fit properly anymore. You should give your Cumming dentist a call right away to have them adjusted or replaced.
How to Remove Denture Adhesive
When you're ready to remove and clean your denture, follow the following steps:
Rinse your mouth: Use warm water or a mouthwash to rinse your mouth.
Remove lower denture: Gently pull your lower denture while rocking it back and forth slightly.
Remove upper denture: Place your thumb against the front teeth and push upward and outward.
Clean your dentures and mouth: Remove any lingering adhesive from your dentures or gums by rinsing and brushing gently.
Call your dentist if you have trouble: If you are having difficulties removing your denture, don't hesitate to call your dentist, who can give you instructions over the phone.
Denture adhesive is an excellent way to improve the stability, comfort, and confidence of your smile. However, it's not meant to be used on dentures that no longer fit properly. Make sure to visit your dentist regularly for checkups to make sure your smile stays strong and comfortable.
About the Practice
The talented team of Dentistry at Windermere is proud to provide award-winning dental care for smiles of all ages in Cumming and the surrounding communities. With special offers, an in-office discount plan, and flexible financing options, they go above and beyond to make high-quality dentistry an affordable option for everyone. All their dental restorations (including dentures) are crafted out of beautiful and durable materials for long-lasting results. To learn more about life with dentures, feel free to contact them via their website or at (770) 205-1212.