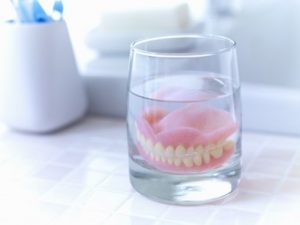 You've finally restored your smile with dentures, and you couldn't be happier. You no longer feel embarrassed when you open your mouth, and you can finally speak and eat comfortably with no worries. As technology advances, dentures become more and more natural-looking and comfortable, but they won't stay that way if you don't take proper care of them. Keep reading to learn the top 3 benefits of soaking your dentures and why it's so important to your oral health and the lifespan of your dental prosthetics.
It Lets Your Gums Rest
Wearing dentures all day can cause your gums feel sore. Cleaning and soaking your prosthetics gives your mouth a break. This paired with rinsing your mouth with warm salt water will help keep your gum tissue healthy and allow you to wear your dentures comfortably. Wearing them day and night without soaking or giving your gums a rest can allow bacteria to build up and stick to the surfaces of your dentures and gums. This can cause your gums to develop yeast and cause painful sores to form.
It's an Effective Way to Clean Them
Ensuring that your dentures remain clean requires a few different steps. Removing and rinsing your dentures after eating, using a soft bristle toothbrush and non-abrasive toothpaste to brush them once a day and visiting your dentist on a regular basis are all part of a proper denture care routine. Soaking them in a dentist-approved cleaning solution every night is crucial to your denture care as well. A proper denture soak can remove 99.9 percent of the bacteria that brushing can't.
It Helps Them Last Longer
On average, dentures have a lifespan of 7 to 10 years. However, with proper care, they can last well beyond that timeframe. They are typically made of porous acrylic materials and can become warped or deteriorate if they aren't kept moist. This will prevent them from fitting properly and possibly break. Getting into the habit of cleaning them and placing them into a soaking solution when you take them out will help them stay clean and keep them functioning properly for many years to come.
Practicing proper oral hygiene and keeping your dentures moist and clean will help keep you eating, speaking and laughing without the stress of wondering if your prosthetics will slip. However if your mouth is sore, even with good dental hygiene and soaking your dentures regularly, you should schedule a visit with your dentist right away. You might have an underlying dental issue, or your dentures may just need a simple adjustment.
About the Author
The team of dentists at Dentistry at Windemere is dedicated to providing patients with world-class dental care in a comfortable environment. Drs. Brian Lee, Sean Van Tuyl and Katherine Lee are all highly-trained professionals who offer a wide range of dental services that include preventive dentistry, restorative dentistry and more. If you're having issues with your dentures or it's time for new prosthetics, contact the office at (770) 205-1212 or visit the website to schedule an appointment today.