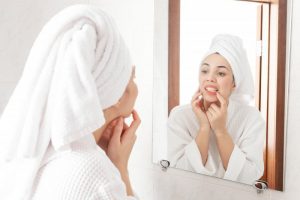 If you've noticed a black line near your gums on an older dental crown, you're not alone. Many people have found themselves in this predicament, which makes it obvious you've undergone dental work. Fortunately, you can do something about it and ensure you never see that line again. Keep reading to learn what causes the black line around a dental crown and how your dentist in Cumming can help.
Why Do I Have a Black Line Around My Dental Crown?
The dark line between your gums and the crown is sometimes visible when you have a porcelain-fused-to-metal crown. The metal provides strength to the crown, but the results can be undesirable if the crown is on a tooth that shows when you smile.
When your crown was fitted, you may not have noticed the black line because it was hidden below your gumline. As you age, however, your gumline recedes and it may eventually expose the border between your crown and the natural tooth.
What Can My Dentist Do About the Black Line?
Replacing your old crown with a new porcelain version will not only get rid of the unsightly line but also create a more natural-looking result than your current crown is capable of. Porcelain crowns are strong and dependable, but they do not contain metal, so there's no chance of developing a dark line near your gums. You can eat practically any type of food with a porcelain crown, and it can last up to 20 years if you maintain a consistent oral hygiene regimen and visit your dentist twice each year for a cleaning and exam.
A dental crown is valuable for your smile since it restores the structure of a cracked or otherwise damaged tooth. A compromised tooth can be painful, especially when you are chewing. A crown also restores your tooth to its original shape and size.
Your current crown may be functioning okay, but if this black line has you searching for alternatives, a crown made entirely of tooth-colored porcelain is your answer. It will provide you with a natural look so no one else will know you even have a crown. Schedule a consultation with your dentist in Cumming and make the switch for the sake of your smile!
About the Author
Dr. Brian Lee earned his dental doctorate from the University of Michigan. He is a member of the American Dental Association and the Academy of General Dentistry. Dr. Lee is so devoted to providing the best possible dental care to his patients that he spends many weekends attending continuing education courses all around the country. There's no need to worry about a black line around your dental crown any longer. He can repair your tooth so that no one will even know you've had dental work done. Schedule a consultation on his website or call (770) 205-1212.