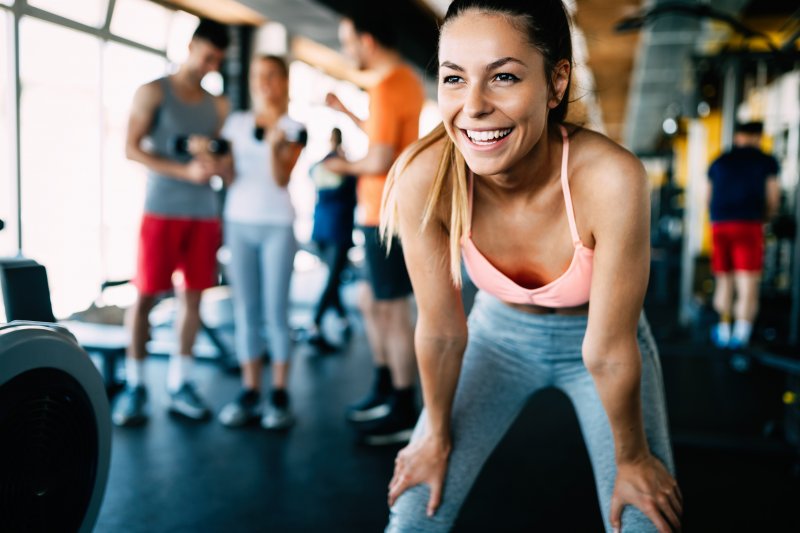 If you're like most, you may think exercise is always good for your body. After all, doctors, parents, and countless others discuss physical activity's benefits. The truth, though, is that it sometimes hurt your oral health. Indeed, workouts and other exercise-related habits can damage teeth and gums. To learn why that's the case, let your Cumming dentist explain things. Here, then, is a summary of the ways exercise can harm your smile and how to combat them.
The Ways Exercise Can Harm Smiles
There are various ways physical activity could harm your oral health. Some common ones include:
Dental Injuries
Perhaps the most apparent oral risk of exercise is dental injury. You could lose teeth or suffer cuts to your lips, tongue, or gums with one hard knock from the wrong angle.
The immediate effect of such injuries isn't the worst of it, either. Left untreated, damaged teeth can cause other pearly whites to shift and trigger bite problems. You might even contract a TMJ disorder.
Teeth Grinding
People often grind their teeth during high-intensity workouts and demanding sports. This habit is harmful and can result in tooth fractures, chips, or holes in teeth. In fact, weightlifters may find that the stress of lifting damages their jaw joints. They'd need urgent dental treatment should that happen.
Saliva Changes
Oddly enough, physical training leads to adverse changes in your saliva. Those changes, in turn, may cause cavities and tooth decay.
This conclusion stems from scientific research. According to a 2014 study published by the Scandinavian Journal of Medicine and Science in Sports, those who worked out more had a higher pH or alkaline content in their saliva. Based on these results, researchers found that the alkalinity and lack of saliva neutralized mouth proteins that prevent decay.
How to Protect Teeth from Exercise
Thankfully, you can protect your teeth from exercise. Just remember to do the following:
Practice good oral hygiene: Brush your teeth twice daily, floss once daily, and rinse with mouthwash as needed. Doing so will counteract the lack of saliva in your mouth.
Have fewer sports drinks: Sports drinks are surprisingly acidic, often causing cavities if had to excess. Therefore, try to drink tap water for workouts instead —it has fluoride that strengthens enamel.
Wear a mouthguard: To protect yourself from teeth grinding or dental injuries, wear a mouthguard. The appliance reduces damage due to clenching your jaw and protects your smile from outside forces.
As you can see, it pays to be mindful of oral health during your physical fitness journey. So, remember the tips above to keep exercises from ruining your smile!
About the Practice
Dentistry at Windermere is based in Cumming, GA. Led by Drs. Brian Lee, Katherine Lee, and Dongwuk Cha, our practice combines high-quality dentistry and calm comfort. To that end, we perform preventive, cosmetic, and restorative treatments, as well as emergency care. As these procedures occur in our amenity-filled office, you can trust your visit will be beneficial! For more information or to book an appointment, you can reach us on our website or by phone at (770)-205-1212.