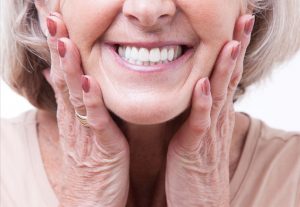 If you've just received dentures, you're probably excited to start wearing them! Bear in mind, however, that there will be an adjustment period as you re-learn certain tasks like eating and speaking. You'll have to get used to where to place your tongue and how to form various sounds and words. If you've been struggling with speaking around your new dentures, continue reading to understand a little more about what to expect and what you can do!
How Do Dentures Affect Speech?
When you initially begin wearing your dentures, you might find that you slur or lisp through words when speaking. Many patients also report particular challenges with "s" and "f" sounds. Generally, these problems occur because you simply aren't used to dentures in your mouth, yet. It takes time for the muscles to adapt to the new dental work.
This applies if you hear a clicking sound when speaking with dentures, too. Your tongue, cheeks, and lips are still learning to accommodate your dentures and might try to push them out. This should dissipate as you learn to accommodate.
What Can I Do To Fix It?
It will take some time to learn to eat and speak normally with your dentures; typically between 15-30 days. There are some things you can do to learn more quickly so you have fewer embarrassing moments in the meantime:
Practice. Repeatedly forming the sounds and words you find challenging can help you retrain your muscles more quickly and effectively.
Count out loud. Counting from 60 to 90 covers some difficult sounds to pronounce with dentures. This is a great way to focus your efforts while you rehearse.
Read aloud. You might start reading the morning newspaper to yourself to adapt to the sound of your own voice with dentures. Once you feel confident with the basics, try reading in front of a mirror to learn your new speech patterns. The more familiar it looks and sounds, the more confident you'll feel.
Talk with family and friends. It's a huge help to have people you can speak with who are there to support you. They can help you identify certain sounds, words, or patterns that require a little more preparation.
Call Your Dentist
If it has been longer than a month and you're still having a hard time speaking with dentures, reach out to your dentist. If there's an issue with your dentures causing any dilemmas, like that they're not fitting well, they'll be able to make any necessary modifications.
Finally, be patient with yourself. This is a big change, and there's more that goes into it than meets the eye. You won't be doing yourself any favors by berating yourself or getting worked up if you have a hard time. Remember that you're working your muscles in brand new ways, so you deserve a little extra grace. Before you know it, you'll have mastered the art of speaking with your dentures so much that you eventually forget you're wearing them!
About the Practice
Our dentists at Dentistry at Windermere provide comprehensive dental services including family dentistry, cosmetic dentistry, orthodontics, and restorative services like dentures. Whatever the reason for your visit, we offer many amenities to keep you calm and relaxed including massage chairs, neck pillows, access to wi-fi, and free coffee. If you're not adjusting well to your dentures or need them refitted, you are welcome to request an appointment on the website or call (770) 205-1212.